This is so frustrating to me when there are obviously people out there who want to save these horses from slaughter and give them a second chance at life. ~Declan
Neglected horses may go to slaughter at public auction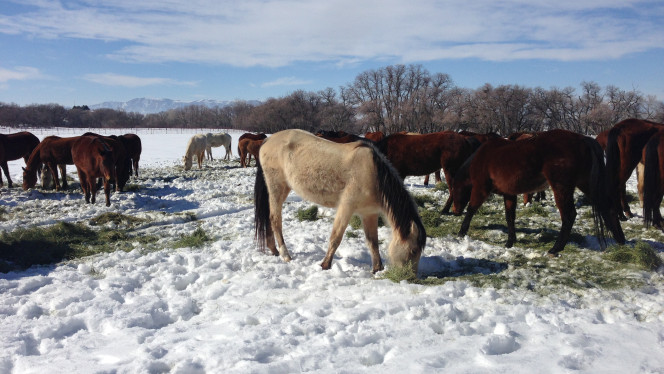 By Lorraine Jackson, ksl.com Contributor
SPANISH FORK — Huddled closely together at the Spanish Fork Fairgrounds, 40 horses that survived a record-breaking winter and several months of neglect will have to face one more hurdle Wednesday: buyers for foreign slaughterhouses.
Multiple volunteers and horse rescue organizations have confirmed that "kill buyers" will be attending Wednesday's public sale of the neglected horses owned by mother and son Rory and Trudy Childs of Smokey Mountain Ranch. Fourth District Judge Fred Howard ordered that the horses be sold to pay a lien to the Utah County Sheriff's Office, which cared for the horses after they were discovered near starvation in mid-February of this year.
Buyers may purchase the horses, transport them to Canada or Mexico, and resell them to slaughterhouses for processing. While regulations have recently changed on the matter of domestic horse slaughter, there are currently no U.S. slaughterhouses open for business.
Alex Anderson of the
Equine Pavilion
in Park City, along with the owners and ranch hands of
Blue Sky Ranch
, plan to be at the auction to try and outbid buyers for the slaughterhouses on as many horses as possible. They have been donating and volunteering since February, and don't want to see the horses go to slaughter. They will be wearing white shirts to identify themselves as being there to outbid the other buyers.
"They are really beautiful horses, and because we've been feeding them all spring, they are healthy and ready to go to work," Anderson said. "We got there the first day thinking we would be there to volunteer for a couple of hours, and ended up spending all day buying water troughs, supplements, and as much hay as we could find in the area. Almost four months later, we're still there."
Nine purebred quarter horse foals and 31 mares and geldings ranging in age and experience will be auctioned. According to Sgt. Spencer Cannon of the Utah County Sheriff's Office, it is unlikely that the horses will be sold with their papers. "It's my understanding that these are very well bred animals. There's just no paperwork from the owners for hardly any of them."
The Equine Pavilion and Blue Sky Ranch hope to take as many horses as they can afford, but auctions are unpredictable, and they are unsure of how much it will cost to outbid those seeking them for the slaughterhouses.
According to
americanhorsemeat.com
, buyers for slaughterhouses can't afford to spend more than around 20-25 cents per pound and still make a profit. With fully grown horses ranging between 800-1,000 pounds, to outbid the middle men, bidders will need to pay $160-$250. The nine weanlings would potentially go for less.
Anderson has secured board for the horses near her facility and hopes to find homes for them in the next several months.
"We're going to take as many as we can, and then just hope that a lot of great, normal horse people show up with trailers who want to take home a great prospect," says Anderson. "We didn't feed and nurse these horses back to health just so they could go for more per pound."
The auction takes place Wednesday at 6 p.m. at the Spanish Fork Fairgrounds.