Our prayers and love are with you Oklahoma. We are truly saddened by loss of life both human and animal. ~Declan
More Than 100 Horses Dead Due to Tornado
Updated: Tuesday, May 21, 2013 6:00 PM
Posted: Tuesday, May 21, 2013 1:04 PM As posted on
BloodHorse.com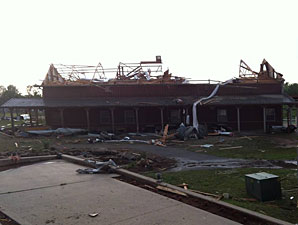 Photo: Orr Family Farm
Tornado Damage at Celestial Acres
More than 100 horses are thought to have perished in the massive tornado that hit the Moore, Okla. area May 20 in addition to the human lives that were lost.
Dr. Glenn Orr and Tom Orr's Orr Family Farm near Moore, Okla., which sits on the 106-acre Celestial Acres Thoroughbred training center, sustained significant damage from the hit.
"Right now we still don't have any specific numbers (on how many horses have died)," said Tony Vann, president of Vann & Associates, the public relations firm that represents the Oklahoma City area farm.
Vann said it was difficult to determine the number of animals lost since Orr rents stalls out to multiple trainers and it was unclear exactly how many were stabled at the farm at the time of the tornado.
"It's like a war zone here
—
(the horses) are just gone," said Vann. "It's just scorched earth
—
like a bomb went off."
The farm's stalls and barns took a direct hit from the tornado, which was estimated to be on the ground for 40 minutes as it demolished everything in its path. It was estimated to be 3.2 kilometres wide. Three and a half of the facility's five barns were reported to be swept away.
At around 4 p.m. ET May 21, the farm reported on its Facebook page that 34 of the Celestial Acres horses had survived the tornado and their health prognosis was good to excellent.
Vann said debris had been found on the Orr property from the city of Moore all the way to Tulsa, Okla., which is approximately 90 miles from the farm. "Right now they are going through and looking at just what they lost," he said.
On its
Facebook page
, the farm noted that while it sustained an "extreme amount" of damage to its property and adjoining facility, its staff is unharmed from the tornado.
Vann said there were five staff in the farm's administration office, plus several seasonal workers on site when the tornado approached. All were able to reach safety before it struck.
An exercise rider named Lando Hite who survived the tornado by huddling in a Celestial Acres horse stall was interviewed on CNN May 20. He predicted only one horse out of 80 that resided on the property had survived the disaster.
"I tried to let some of the horses get loose and free out of their stalls so they'd have a chance," said Hite, who suspected the tornado was on its way moments just before it touched down.
Canterbury Park Quarter Horse and Thoroughbred trainer Randy Weidner, who kept 12 horses at Celestial Acres, reported he had lost all of his stock, as well as a truck, trailer, tack, records, and computer in the disaster.
A fund has been set up for Weidner, who was preparing to move his stable to Canterbury Park for the 2013 meet. Checks can be written to "Randall Weidner Catastrophe Trust" and mailed to: Wells Fargo, 380 S. Marschall Rd., Shakopee, Minn. 55379.
Celestial Acres frequently consigns yearlings at the Oklahoma Thoroughbred sales. Over the years, the operation has been represented as breeder of several winners at Remington and Lone Star Parks, including 2005 stakes victor
High Pioneer
.
In the 1990s, stallions At the Threshold and Proper Reality stood at Celestial Acres.
"We encourage individuals to donate resources to reputable organization such as the Red Cross," Orr Family Farm stated on its Facebook page. "Do not try to enter the area as the authorities have most of the city blocked and it is still hazardous for travel.
"We very much appreciate and feel very blessed with the outpouring of support from all of you. Please continue to watch our page as we try to assess damage and offer more information to you when we can. We appreciate your offers of assistance, animal care and items, and we will let you know when we can receive these generous offers."
Equine equipment and feed-related donations in the Oklahoma area can be arranged by calling Red Earth Feed & Tack 405-478-3424. Orr has also set up a
Paypal account
for those wishing to donate to the farm.
Orr is located 20-25 miles south of Remington Park, which was not believed to have sustained damage from the tornado.
On May 21, Alex Waldrop, president and chief executive officer of the National Thoroughbred Racing Association, spoke with Remington president and general manager Scott Wells, who reported all the track's employees that resided in the Moore area were unharmed.
"We also talked about federal disaster relief that might be available to Mr. Orr, who Scott knows personally," said Waldrop. "There's a chance they could be in line for some federal disaster relief through the USDA program administered by the Farm Service Agency. They have certain conservation programs that that help farmers and ranchers repair damage to their farms caused by natural disasters, so I was just pointing them in that direction."
Waldrop said he was also scheduled to speak with Danielle Barber, executive director of the Thoroughbred Racing Association of Oklahoma, about disaster relief for other farms that may have suffered damage from the tornado.