Please consider adopting one of theses beautiful babies who were saved from slaughter. This one Humane Society in Oregon has already saved 2000 horses over the last 9 years - that's a LOT! Horses do NOT need to end up in a slaughter house, they can go to people who really want them and will love them!! ~Declan
24 Baby Horses Saved From Slaughter,
Malnourishment In Oregon (VIDEO)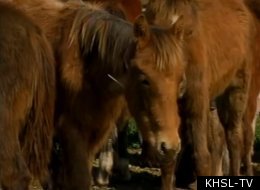 For the first time in their young lives, 24 baby horses from Oregon will be receiving the care and nutrition they need thanks to the efforts of rescue workers who purchased them at or en route to auctions where they were likely to have been sold to slaughterhouses, ABC 10 News Sacramento reports.
According to a press release issued by the Horse Plus Humane Society, the 24 young horses were purchased by rescue workers after being transporting from a ranch in Oregon to an auction in Turlock, Calif. From there, rescue workers believe the horses would have been transported to Mexico and slaughtered for human consumption.
Tawnee Preisner of the Horse Plus Humane Society told ABC 10 that members of the California-based rescue organization traveled to an auction on Saturday and paid as little as $50 each for the horses. Additional horses were purchased on Monday from an interstate transporter.
Preisner told the station that rescue workers can easily tell which horses are destined for the slaughterhouse based on how much they are being sold for, with prices for slaughterhouse horses typically set at around 22 cents per pound.
"That's rewarding seeing life come back into their eyes, seeing their spirits returning to them and see that life isn't all about being hard and rough," Preisner told KHSL-TV. "There's actually a good side. And they're experiencing that now."
Now recuperating at the Horse Plus Humane Society, workers are busy seeking new homes for the young horses. The organization has lowered the price of adoption to $100 for approved families, and is also looking for donations to help feed and medicate the animals as they recover.
Sadly, the case follows a number of recent incidents of reported cruelty to horses.