Check out the mustangs playing in the snow!! Look how much fun they are having! The paint is Amado and I met him this past summer. My friend Summer said I can ride him this year when we visit Little Brook Farm - I can't wait!! Macai is his new buddy and I am looking forward to meeting him too!
To learn more about these two wild mustangs, their training and Little Brook Farm where they live, please visit them on Facebook and "like" their page. Spread the word and show everyone two great wild mustang ambassadors, Amado and Macai. ~Declan
February 12, 2013

For Two Mustangs, Winter Storm Nemo Means Horseplay!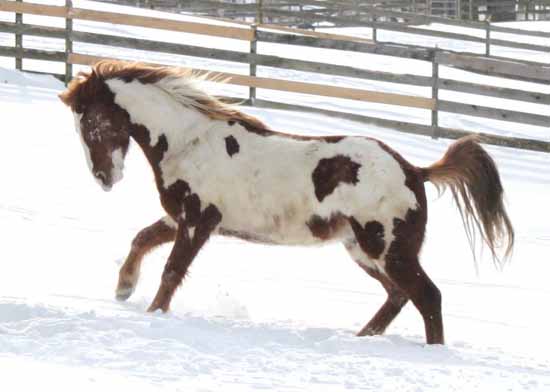 Five-year old American mustang Amado. Photo © Summer Brennan
In the hours post-Winter Storm Nemo, a paddock swathed in knee-deep, fresh powder snow, proved irresistible to American mustangs Amado and Macai. Like children and dogs, horses like a romp in the snow and this pair takes their romping to the extreme. In fact, they behave like a couple of 11-year old boys -- somehow everything gets turned into a contest or play-fight.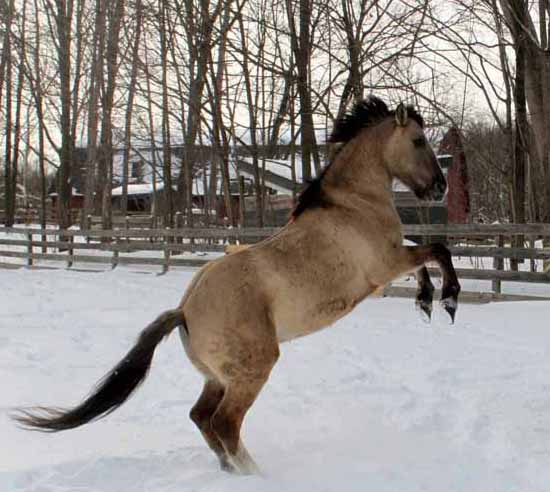 Seven-year old American mustang Macai. Photo © Summer Brennan
Pasture-mates, Amado and Macai spend a lot of time hanging out with each other. As young horses, like all young animals, if there is mischief to be done or fun to be had, this pair is all in. Every morning people passing their roadside paddock at Little Brook Farm, a horse rescue and sanctuary in the Hudson Valley hamlet of Old Chatham, NY, witness Amado and Macai engage in ... horse-play. While it looks like horse warfare, the two come out of their battles unscathed and the best of buddies.
Summer Brennan, their trainer and benefactor, chronicled Macai's and Amado's antics early Saturday morning. The work on a horse farm after a snow storm is unrelenting; moving hay, horses and water is a challenge. It's moments like these with Amado and Macai that make the labor a little easier and absolutely worthwhile.
Enjoy the slideshow and cast a vote for your favorite picture.
Amado (left) and Macai test out the new snow courtesy of Snowstorm Nemo!