Ollie is a great horse and I am sad to know that he was neglected, but I am happy that he has been rescued! Do you have an "Ollie" Breyer Horse? ~Declan
Famous Horse Was Discovered Neglected And Saved By A Rescue
As Posted: Sep 19, 2012 5:33 PM EDT Updated: Sep 19, 2012 5:43 PM EDT on WTRF.com
By D.K. Wright, Digital Journalist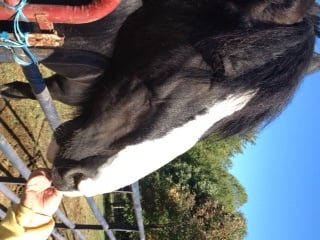 On August 18, a draft horse rescue in Cambridge took in a black stallion.
They knew his name was Ollie, and he was in bad shape, with two teeth knocked out, sore feet, a skin infection, dull hair and malnutrition.
"He was probably 400 pounds under where he should be," says Lisa Gordon, of Frog Pond Farm Draft Horse Rescue.
Ollie thrived at Frog Pond Farm.
He came around quickly on his rehabilitation diet of five meals a day, gradual gentle exercise, and vet and chiropractic care.
Ollie was shockingly charming and polite, and quickly became Lisa Gordon's favorite.
"I always tease her about favoritism, how she favors him over everybody else," said Emmi Gordon, Lisa's 15-year-old daughter.
Then Lisa discovered something amazing.
Ollie wasn't any old draft horse.
He was Fox Valley Oliver, champion and reserve champion in the United States and Canada.
Of all the Shire breed, he was a rock star among horses.
He was chosen by the prestigious Breyer Company to be the model for their special edition Breeds of the World toy model horse.
But since then, he had gone from rock star to rock bottom.
Now at age 16, Ollie has found himself a permanent home at Frog Pond Farm.
He is the chilling illustration of what can happen to horses as they are sold and re-sold, as owners lose interest or fall upon hard financial times.
"It just shows everybody that it doesn't matter what horse it is," says 18 year-old Taylor Gordon. "It doesn't matter if it's an old Amish work horse or a top-of-the-game show horse. Any horse can end up where he was."
And even Ollie was just two step away from the fate of many horses these days.
"You know, that's for our horses to be shipped and slaughtered and to be sent overseas to be eaten," says Lisa Gordon.
This happens to be the tenth anniversary of Gordon's very first horse rescue.
Since then she has rehabilitated and re-homed nearly 1700 horses.
But she says nobody tells the story better than Ollie.