Interesting investigation. What makes people think this won't happen in the US if we re-open horse slaughter plants? ~Declan
Where did the 29% horse in your Tesco burger come from?
Guardian investigation uncovers complex international supply chain including drug and horse smuggling
Ten months after the horse meat scandal erupted, the Guardian's award-winning author and investigative reporter Felicity Lawrence takes to the motorways of Europe to investigate the sick horses, the rotten meat, the convicted criminal, the alleged fraudster and the meat factories at the heart of the biggest food fraud of the century – and asks, why has no one been held to account?
Warning: Some viewers may find some images distressing
Link to video: Is this where the 29% horse in your Tesco burger came from?
It is the biggest
food
fraud of the 21st century; it led to the withdrawal of tens of millions of
burgers
and beef products across
Europe
and a promise from
David Cameron
that everything possible would be done to get a grip on a "very shocking" crime. However, 10 months on, the details of how horse meat came to adulterate large parts of the British and Irish food chain are still being kept from the public.
At one point in the chain, there is testimony from migrant workers paid cash in hand to process defrosted meat that was "green" and years old. The Guardian has established that some meat from the plant was sent via a trader to the leading European supplier that manufactured adulterated beefburgers sold in several high street stores.
One reason prosecution is so difficult is that retail supply chains have become so complex that pinning down the point at which the crime of mislabelling took place has proved difficult. The factory that supplied Tesco with its 29% horse "beefburgers", for example, was using "multiple ingredients from some 40 suppliers in production batches, and the mixture could vary in every half-hour", according to the Irish department of agriculture.
Goodman is no stranger to controversy. His companies were at the heart of allegations of fraud and political corruption that led to a public inquiry in Ireland in the early 1990s and helped bring down the Irish government. The report of the inquiry, known as the Beef Tribunal, found that there had been several incidents of fraud and an attempt to cover it up, as well as tax evasion. The judge also concluded that illegality in the company had involved the faking of documents, commissioning of bogus official stamps, passing off of inferior beef trimmings as higher grade meat and cheating of customs officers in the 1980s.
Goodman said he had been unaware of the illegal activity and blamed subcontractors operating without head office knowledge. The inquiry found no evidence that he had known.
Where did the horsemeat in burgers made by ABP come from? The Guardian has discovered that the company bought some of its meat from a Dutch businessman called Willy Selten via a trader who could have been a source. Selten ran a meat cutting plant in the town of Oss, south of Rotterdam. In May, he was arrested by the Dutch authorities on suspicion of fraud and false accounting, when official tests on boxes of meat labelled as beef taken from his factory found horse DNA in 21% of them.
Selten, who supplies numerous outlets around Europe, has denied fraud and false accounting. He told us through his lawyer that horse had been mixed with beef to order for only 10 months, and claimed that where old meat was being cleaned up and mixed with horsemeat he intended it for pet food.
ABP has blamed the adulteration in its chain on rogue managers at the Silvercrest site in County Monaghan, who, without the knowledge of head office, were buying in frozen meat for burger-making from traders who were not on the list of suppliers approved by its customers.
It admits they breached contracts and strayed out of supermarket and fast food specifications but insists no one in the company knowingly processed horsemeat.
Last month both companies announced that they had reached a confidential financial settlement, and Norwest apologised for selling horsemeat to ABP Silvercrest unwittingly. ABP refused to answer questions about where the Selten meat had ended up.
So meat from Selten ended up at ABP for making burgers, but what were Selten's sources? The Guardian has managed to follow a trail from Selten's Dutch factory back to a key source of its horsemeat in the UK. Selten took deliveries from a Cheshire-based slaughterhouse known as Red Lion. It is owned by the Turner family, who slaughter and cut horsemeat and who own a cargo handling company in Dundalk, Ireland.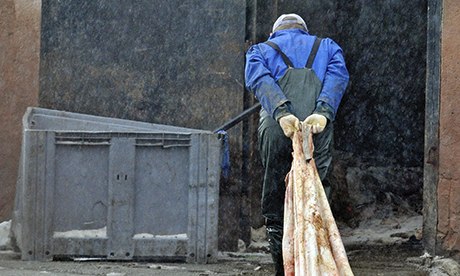 There is evidence that suggests horsemeat at the Red Lion abattoir came via a route involving organised crime. Two separate sources involved with enforcement have told us that Red Lion was the final destination of deliveries of animals from a loyalist Northern Irish horse dealer, Laurence McAllister.
He was tracked transporting unfit horses and donkeys, some without passports, from Northern Ireland via Scotland for disposal in the UK. His return load on one journey to Belfast was a quantity of cannabis worth more than £500,000, which was concealed in horse lorries. He was found guilty in October 2012 of drug smuggling and later of animal cruelty offences. Some of the horses he had been transporting were sick with chest infections, wounds, diarrhoea and sepsis.
A spokesman for the Turner family insisted that all their horsemeat deliveries to Selten had been properly labelled as horse and were legal. He at first denied but later acknowledged that one horse sent to Selten had been the subject of a recall having tested positive for 'bute', the horsemeat drug banned from the food chain. Tests for bute were taking three weeks at the time, so carcasses were often only recalled once they had already been sold on. The family through their lawyer, initially denied that horse had ever been bought by the abattoir from McAllister. Their lawyer later clarified the family's position, saying said that while they had never knowingly received horses from McAllister, it was possible they had bought from him indirectly without knowing. They had never knowingly slaughtered unfit horses or horses without proper passports, he added, pointing out that horses were only processed once they and their documents had been passed by official inspectors. There is no suggestion that the Turner family or employees at Red Lion had any involvement in drug smuggling.
Tesco, Burger King, Aldi and the Co-op have all apologised to customers and said they had been unwitting victims of fraud at some point in their supply chain. They also say the authorities have confirmed there was no food safety issue raised by the adulteration. They refused to answer the Guardian's questions about where the horsemeat in their beef products had originally come from, and whether Norwest or Selten were involved in their supply chains.
An ABP spokesperson said it had not engaged in any illegal activity and that there had been no breaches of law or food safety at Silvercrest. "We have made it clear we have never knowingly bought horsemeat … if equine was deliberately introduced into the food chain, then we are among those who have suffered as a result of such activity."