Meet the horses who play "Silver" in the Lone Ranger movie. ~Declan
Hi Ho, Silver! 'Lone Ranger' star horse hails from Woodstock farm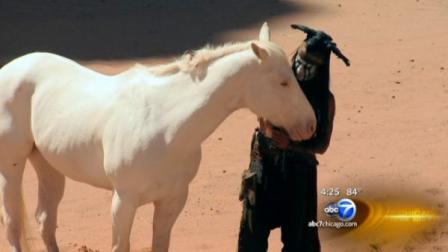 July 5, 2013 (WOODSTOCK, Ill.) (WLS) --
One of the stars of the new movie "The Lone Ranger" used to live just outside Chicago before she went Hollywood.
Phoebe is an all-white thoroughbred cast as "Silver." She was discovered two years ago at the Valley View Acres horse farm in Woodstock as plans for the film got underway.
Phoebe is one of five horses used in various scenes and her specialty is jumping. Phoebe can leap four and a half feet.
She's seven years old, and trained at Arlington Park and Hawthorne, but apparently, she spooked the other horses because of her color.
HI-YO SILVER! TWO WHITE THOROUGHBREDS STAR IN DISNEY'S 'THE LONE RANGER'
Blazing Colours Farm, a Wellandport, Ontario-based equestrian center and breeding facility, announced today that two white thoroughbred horses bred at Blazing Colours Farm and sold to Walt Disney Productions in 2011 will be starring in Disney's new movie, "The Lone Ranger". The movie, starring Johnny Depp and Armie Hammer, debuts in theaters on July 3, 2013.
April Wayenberg, founder and owner of Blazing Colours Farm, said that she was approached by one of the head "wranglers" for the movie in May of 2011. The wrangler, who was responsible for selecting and training the horses appearing in the film, did visit the Farm in person soon thereafter and made the decision to purchase the two white thoroughbreds born and raised at Blazing Colours Farm for use in "The Lone Ranger."
The horses purchased were Cloud Ten (a 6 year old stallion) and White Pharaoh (a 4 year old gelding). "The two horses looked liked twins and most people could not tell them apart, so the wrangler thought they would make great body doubles for each other in the movie," said April Wayenberg.
A total of 4 white horses were used during production of The Lone Ranger, including the two Canadian-bred horses from Ontario. Both horses were born and raised at Blazing Colours Farm and sired by the stallion Sato, who is also owned by Blazing Colours. Sato is famous in his own right, as he was immortalized as a Breyer horse model in 2010 due to the fact that he is a rare Palomino Pinto Thoroughbred and the first one ever born in the world. Both Sato and Cloud Ten were also photographed and featured in "Horses in Living Color", a book published in 2010 by renowned equine photographer Barbara Livingston.
Cloud Ten made headlines in several newspapers when he was born in 2005 because he was the FIRST white Thoroughbred to ever be foaled on Canadian soil. At that time there were only about 20 white Thoroughbreds every registered by The Jockey Club out of a total of nearly 2.5 million Thoroughbreds on record, which made Cloud Ten quite a rarity.
Cloud Ten and White Pharaoh were chosen for the movie for their colour, size, temperament, athleticism and trainability, according to the Disney wrangler, all traits that Blazing Colours Farm is known for producing in their horses.
It All Began With a Strange Phone Call
Farm founder April Wayenberg recalls her first phone conversation with Disney's head wrangler.
"He told me his name, said he was interested in a couple of my horses but didn't tell me who he was or why he was calling," says Wayenberg. "He asked me several questions about them which were normal and then he asked me whether their manes would grow long and if they had ever heard gunfire. At that point, I thought, this is sort of odd and I wondered if he might be off his rocker and just wasting my time, because of course their hair would grow, and why would he care about that anyway? And gunfire — what was that all about? But I was polite and answered all his questions, including the odd ones, because it's really impossible to tell a serious buyer from a 'tire kicker' during one phone conversation. I had no idea he was shopping for horses to star in a movie, let alone a Disney movie, until a few conversations later, which then explained some of the odd questions at the beginning."
Wayenberg said that Disney discovered Blazing Colours Farm and its white horses because White Pharaoh was being advertised for sale and the wrangler had seen a YouTube video of him that Wayenberg had produced. Cloud Ten was actually not for sale at the time, but was discussed because he also fit the bill of what the producers were looking for. White Pharaoh was purchased first and later an agreement was made to purchase Cloud Ten as well.
It's A Family Affair!
April Wayenberg noted that Cloud Ten had two sons, both of which are white, that were born and still reside at Blazing Colours Farm. The future plans for these two white stallions include becoming driving horses to be hired by the public to do weddings and other special events. They will be available for booking events starting in early 2014. Blazing Colours Farm also retained frozen semen from Cloud Ten to be used and sold after The Lone Ranger is released.
"Because we have frozen semen from Cloud Ten available, it's possible for anyone out there to have their very own offspring from "Silver" that starred in The Lone Ranger movie," she says.
Was it difficult seeing here two horses leave the Farm?
"It was very tough," says Wayenberg. "When you breed and raise a horse for a number of years they become part of the family. But at the same time it was tremendously exciting to know that they were going to be immortalized as part of movie history. I grew up watching The Lone Ranger and Mr. Ed, and I know the impact that movies and television can have on millions of people who watch them. So, for horses that I bred and raised and trained to be used in a remake of a movie on a scale like this is such an honor and something that I will cherish for the rest of my life."
April says she is eagerly anticipating the movie's July 3 debut. "I will be there, that's for sure!" she says. "And I'm sure that everyone from Blazing Colours Farm will be going with me. We plan to make a big night of it."
FAIRDEALING, Ky—A local celebrity made its debut in the Disney movie "The Lone Ranger" over the holiday weekend. But, this celebrity may not be the character you are thinking of. This special character has four legs and was quite the actor. Arctic Bright View is one of several horses that portrays the horse, Silver, in "The Lone Ranger."
Paul and Berva Megson own Arctic Bright View and said he is special in so many ways. They said the horse has changed their lives and they were so excited when he finally returned home from the movie. Paul Megson has been training horses for as long as he can remember. Megson said, "The horse business is something you have to love, if you love it, then it's not work."
Megson owns about 24 white horses and has a close relationship with all of them. Megson said, "This is probably the largest herd of white registered thoroughbreds in the world." He said millions of thoroughbreds are registered in the world, but less than 100 horses are registered white.
Megson never thought owning these rare horses could change his life. "When they came knocking and wanted to use Arctic Bright View, I mean obviously we were humbled by the fact that they wanted to use our horse...When the movie situation came along, we realized there was quite an opportunity to do something else besides raise horses," said Megson.
Disney offered to buy the horse for the movie "The Lone Ranger," but Megson agreed to only lease Bright Arctic View because he could not imagine selling the horse his daughter, Valerie, fell in love with.
Valerie Rowe said, "I had no idea what this horse would be now, and when he bought it I was in tears. I was crying. It was one of the best moments in my life."
Arctic Bright View's owners said it is not only the tricks and stunts that make him so special. Rowe said, "Me and the horse have a special relationship I feel like, every time I come up to it, he puts his nose up to me and I kiss it,"
This special horse is not only a celebrity, but also a girl's best friend. Rowe said, "It makes me feel like the luckiest girl in the world... I was itty-bitty at the time when I first saw the horse and it was pure white. It was the most beautiful horse I'd seen in my entire life and I asked my dad and was like this is the horse I want, this is mine."
Arctic Bright View is currently in Ohio at The Cedar Brook Farm standing stud. He will return to the farm in Fairdealing at the end of July. Megson said he does not expect Arctic Bright View to star in another movie, but he said you never know what the future may bring.
White horses are a genetic anomaly. Megson said Arctic Bright View has a dominant white gene and that is what gives him his solid, bright color. Megson said researchers at the University of California, Davis have been studying this dominant white gene for quite some time.



Nebraska rancher's horse takes starring turn in 'Lone Ranger'
He bought him about nine years ago and broke him to ride. He didn't spook easy, or much at all. Just about anyone can look good on Leroy.
"If you can't ride Leroy, go ride one in front of Kmart," Peterson said.
The horse's look, his size (about 16 hands) and his demeanor made Peterson all the more confident when he rode his prized animal over, leaned into his ear and frequently told it, "Someday, Leroy, I'm gonna get you in the movies."
Peterson had a particular movie in mind -- "The Lone Ranger" -- and a particular role: Silver. And he has about 35 years of experience providing livestock to Hollywood productions.
His horses rode in "Cowboys and Aliens." He provided a pair of steers, Willie and Waylon, for "Far and Away," "Maverick" and a few Marlboro ads.
Peterson doubled as Robert Redford on "The Horse Whisperer" and was featured in a 1973 Robert Duvall-directed documentary about his trick-riding family, "We're Not the Jet Set." His brother and sister both work in the film industry, and combined you can connect a Peterson to a western movie about as easily as you can link Susan Sarandon to Kevin Bacon.
When told that Matt Damon showed up in Lincoln Wednesday, Peterson thought back to a shoot in 1992, when he wrangled horses and provided livestock for "Geronimo: An American Legend," one of Damon's early roles.
"Arm wrestled him in a bar," Peterson said on a crackly phone call from the Otter Creek Ranch, just north of Lake McConaughy. "Right-handed. He beat me, too. I said, 'You wanna go left?'"
He recalled that Damon took horseback training seriously while filming in Utah.
"Learned how to ride real good," he said.
Peterson had a similar glowing review of Armie Hammer, who played the Lone Ranger, and rode Leroy for a good portion of the shoot.
For years, Peterson had a hunch that Hollywood would one day remake the radio and TV serials, so he sought out a horse that looked like Silver in the event that a "Lone Ranger" movie would ever come down the pipeline.
It did, and Peterson contacted Bobby Lovgren, the head horse trainer for "The Lone Ranger," whom Peterson knew from previous shoots, and told him about Leroy.
"I sent him pictures," Peterson said. "He said, 'When can you have him here?'"
In early 2012, he brought Leroy, along with teams of mules, teams of horses and wagons from the western Nebraska ranch to the shoot. Much of the filming took place near Albuquerque, N.M., where the film crew laid down about seven miles of railroad track, brought two steam engines and built a Wild West environ.
There, Peterson said, Leroy served as the horse often used when actors were shot riding Silver. Leroy, Peterson said, is what they call the main cast horse on set.
Another white horse, whose actual name is Silver, has been getting plenty of pub for the stunts and mugging it did that are featured throughout the movie. And there was a stable full of Silvers on set. But Leroy was the only one that would run close to the trains, Peterson said. If you watch the movie, you'll notice the difference between him and the others. He's the biggest, jowliest one.
Early in the shoot, Peterson watched as Hammer and Johnny Depp, who plays Tonto, filmed a scene in which they dashed across a stretch of desert on horseback. Peterson said Depp "tilted over like a little kid," and then fell off his horse, which could have torpedoed the movie, and seriously injured or killed Depp. He escaped with just bruises.
"They got very lucky," Peterson said.
The reviews and receipts of "The Lone Ranger" have been less fortunate. Peterson hasn't seen the movie yet, but doesn't take it personally when one that he worked on fails to set the box office on fire. He hoped there would be a sequel, but Peterson said he's got plenty of work to do on the 18,000 acres he manages until Hollywood calls again.